FLY: Treat Me Toy
The Rufus & Coco Fly: Treat Me dog toy is designed for rewarding, long-lasting play time.
This interactive dog fetch toy is a durable rubber ball on a strap designed for you to easily throw. It can be filled with all kinds of treats - sticks, straps, dental chews and more. The Fly: Treat Me dog toy also floats in water and is perfect for playing fetch.
Safety tested and made from durable rubber blend, this dog toy is washable and built for tough outdoor play.
Available in pink and blue.
Choose the toys that give back!
Every purchase from the Rufus & Coco I Give A Wag toy range donates money to the Australian Pet Welfare Foundation to support their mission to end unnecessary euthanasia in Australian pounds.
Features
Tough built toy - Safety tested* and made from durable rubber blend material.
Designed for rewarding play - Holds larger long-lasting treats like raw hide straps, bully sticks, meaty bars or twist sticks.
Designed for active play - Take me to the park!
Floats in water
*Tested for Australia against European Safety Standard for Children's toys
Tips
Tips for stuffing with treats:
Wedge large treats through the centre of the football
Try coating the middle of the football with some peanut butter for hours of delicious play!
Care Instructions
Check regularly for signs of wear. Wash in warm water with mild detergent. Always keep an eye on your mate when they're playing with toys.
Customer Reviews
Customer Reviews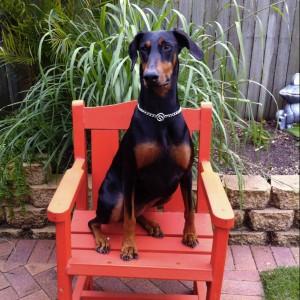 CH
01/10/2021
Claire H.

Australia
Fly Treat Me Toy
Great toy
30/05/2021
April

Australia
Best chew toy!
This treat ball is amazing! I've been a dog owner for 20 years and have bought quite a lot of toys that just get destroyed in only a couple of days. But this ball has not been defeated and we have had it for quite a long time. The ball is very durable, bouncy and can survive in the sun for a very long time. I've watched my dog chew at it for hours pretty much everyday and the toy is still going strong. Very good quality and would highly recommend to get this toy.
08/10/2020
Ana D.

Australia
Keep them entertained
This treat ball is the only one that our GS girl likes ... and "survives" her chewing. Value for money, I used to buy a more expensive one that would not last more than a couple of days. I would definitely recommend it
10/09/2020
Chamberlain W.

Australia
Amazing
I gave my 8 mth old Labradoodle one of these expecting it to be wrecked and chewed to pieces within the day but this toy has gone over and past my expectations. She usually chews through any tough chew toy even some Kongs but the only thing that she chewed off was the handle. So instead of a toss toy this gets filled with her kibble for every meal along with her Kong Wobbler and her Snuggle Mat. She loves it and at these prices so do I.