FOOTBALL: Treat Me Toy
The Rufus & Coco Treat Me range is designed for rewarding, long-lasting playtime. The toys can be filled with all kinds of treats - sticks, straps, dental chews and more! They also float in water and are perfect for playing fetch.
Safety tested and made from a durable rubber blend, the toys are washable and built for tough outdoor play.
Available in Dark Purple and Lime.
Choose the toys that give back!
Every purchase from the Rufus & Coco I Give A Wag toy range donates money to the Australian Pet Welfare Foundation to support their mission to end unnecessary euthanasia in Australian pounds.
Features
Tough built toy
Safety tested* and made from durable rubber blend material.

Designed for rewarding play
Holds larger long-lasting treats like raw hide straps, bully sticks, meaty bars or twist sticks.
Designed for active play
Take me to the park!

Floats in water

*Tested for Australia against European Safety Standard for Children's toys
Tips
Tips for stuffing with treats:
Wedge large treats through the centre of the football
Try coating the middle of the football with some peanut butter for hours of delicious play!
Care Instructions
Check regularly for signs of wear. Wash in warm water with mild detergent. Always keep an eye on your mate when playing with toys.
"My mum says I wolf down my food too fast! So now she gives me treats in a Rufus & Coco Treat Me Toy. The fun lasts longer, and the best part is knowing that just by playing I'm donating to Australian Pet Welfare Foundation to help furry friends who are not as lucky to have a mum like mine."
Maggie, age 4
Customer Reviews
Customer Reviews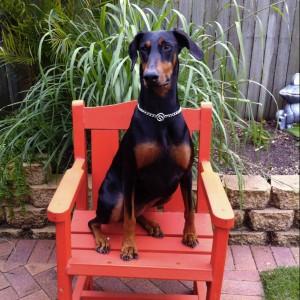 CH
10/01/2021
Claire H.

Australia
enthusiasm
Football Treat Me Toy Great Toy
Tough football chew toy
I have a 11month old English Staffy who either destroys his toys in 5mins or doesn't like them. Picked this football up at woolies while I was testing all different sorts of dog toys out. And we haven't looked back since. It's the only ball he'll play fetch with. And he loves chewing on it. We've had it approx 6months maybe a little longer and he only just put a tear in it. I can not speak more highly of this toy
Perfect for heavy chewers!
I have a English Staffy x Bullterrier and she cannot get through this toy! I've bought so many toys and spent countless dollars just for a simple toy that I picked up from Woolworths to do the trick! She absolutely loves it with or without treats and has completely forgotten about her 100 other toys laying around, couldn't recommend this toy more!