Bone Dry Chamois
Rufus & Coco Bone Dry Chamois is a professional grooming chamois for washing and drying your pet.
Super absorbent - Absorbs 4x as much as a towel
Dries coat quickly without rubbing to help prevent knots

Easy to store - keep one in the car for beach adventures
Doesn't hold odour
Machine washable 
Size: 43 x 32cm
How To Use
Dry your pet by removing the Bone Dry Chamois from the canister and wiping it over your pet until they are dry. When the chamois feels heavy and full, simply wring it out and keep drying.
Care Tips
To care for your chamois, after use, rinse the chamois with water and wring it out. Then roll and fold it into the Bone Dry Chamois canister and close the lid. If the chamois becomes dry and hard, soak it in water for revitalisation.
Customer Reviews
Customer Reviews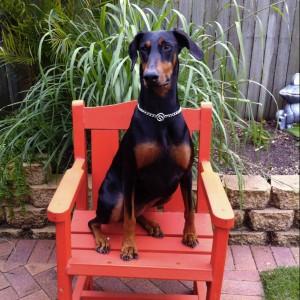 CH
01/10/2021
Claire H.

Australia
Prizes
The items were prizes at a dog trial and they were received with enthusiasm.
12/05/2021
LEANNE H.

Australia
Dog chamois
I was very impressed with the dog chamois, before I was using towels. Our cocker spaniel has thick fur and I was amazed how much water the chamois absorbed when I was drying our dog. Highly recommend this product.
08/04/2021
Minnie B.

Australia
Puppy chamois
Good small compact for use on the puppy in our caravan
03/11/2020
Helen A.

Australia
Dog Chamois
Excellent! We've been using this product for approx. 10 years!!
Dry as a Bone.
The Bone Dry Chamois is great. I don't know why no -one has thought of it before! It absorbs most of the water from my dogs' coats, so eliminates the need for so many towels at bath time. It is compact enough to take to the beach, so the dogs dry quicker to travel back in the car. It is also easy to wash and keep in the holder.